Table and Chair Rental Frisco Texas
Birthday Parties, Backyard Parties, Picnics, Corporate Events, School Events, Church Events, Fund Raisers, We've got what you need! On-Time Delivery Guarantee! Bringing serious fun to your party in Frisco Texas!
Helping your Frisco, Texas party succeed
🪑✨ Elevate your event with Table and Chair Rentals in Frisco, Texas – where comfort meets style, and every seat is a front-row experience! 🌟🎈
🌈 Frisco's Premier Seating Solutions! 🌈
Create a picture-perfect setting with our top-quality Table and Chair Rentals in Frisco, Texas. From elegant weddings to corporate gatherings and casual family events, our rentals are designed to turn every occasion into a comfortable and stylish affair.
🪑 Seating Fit for Every Theme! 🪑
Choose from a diverse range of chairs and tables that cater to your event's theme and ambiance. Whether you're aiming for a sleek modern look, classic elegance, or a casual vibe, our rentals provide the perfect canvas to bring your vision to life.
🎪 Tents for Every Occasion! 🎪
Ensure your guests are comfortable in any weather with our premium tent rentals. From intimate backyard celebrations to grand outdoor events, our tents offer shelter and style, customizable to suit your unique needs.
🎨 Accessories to Transform Your Space! 🎨
Complete your event setup with our selection of accessories, including linens, chair covers, and centerpieces. These finishing touches add a touch of sophistication and turn your venue into a visually stunning masterpiece.
🚀 Convenience and Reliability! 🚀
Planning an event can be stressful, but with our Table and Chair Rentals in Frisco, Texas, you can relax. Our reliable delivery, setup, and pickup services ensure a stress-free experience, allowing you to focus on enjoying the celebration.
🎊 Affordable Luxury for Every Budget! 🎊
We believe in making every event special. Our Table and Chair Rentals offer affordable packages, ensuring that you can add a touch of luxury to your celebration without exceeding your budget.
🎟️ Book Your Table and Chair Elegance Today! 🎟️
Don't settle for ordinary seating when you can have an extraordinary experience with Table and Chair Rentals in Frisco, Texas. Reserve your rentals now and let the elegance unfold. It's not just a rental; it's an investment in an event that will be remembered for its comfort and style.
👉 Ready to make every seat a VIP experience? Secure your Table and Chair Rentals now for an event that's as comfortable as it is stylish! 🌟🪑
FRISCO, TX. PARTY RENTAL EQUIPMENT SOLUTIONS FOR YOUR PEACE OF MIND

Make your next party your best ever
We deliver, setup, and pick up.

Discover:
DFW PARTY RENTAL
Bringing serious fun to your party in Frisco, TX!
Frisco Water Slide Rentals
Ramp up the fun at your next Frisco party or event with a water slide rental from DFW Party Rentals. Water Slides are fun for kids of all ages, and you might even catch an adult or 2 in there! Your party goers with have a blast laughing, sliding, splashing, and playing in our safe and clean inflatable slides. We offer a large selection of Water Rides to fit your parties size and theme.


Click Here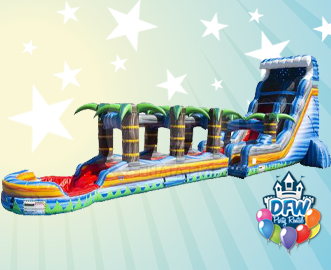 Frisco Dunk Tank Rental
The concept of dunking the boss at the company picnic, or dunking the local "celebrity" at fundraiser events has become an American pastime. Rent this tank for your school, church, or corporate event. Also good for backyard parties, just make sure you have at least 6 foot wide gate to accommodate this large item.


Click Here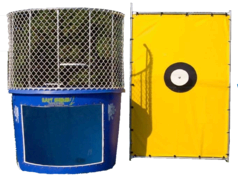 Frisco Inflatable Game Rentals. Frisco Games & Attractions
Pump up the excitement with our awesome interactive games and attractions that are designed to bring your guests together with fun activities and friendly competition. These simple skill and challenge activities are great for all ages and are the ideal choice for school fun days, church festivals and company picnics.


Click Here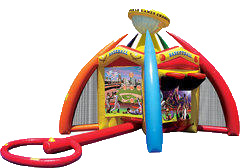 Frisco Outdoor Movie Theater Rental
Our Backyard Movie Theater rental includes a 16 foot inflatable movie screen. 4000 Lumen DLP projector, Professional AV Speakers, and a Blu-Ray / DVD Player. All you need to provide yourself is the movie. We will deliver and setup the equipment, instruct you on the operation and pick everything up when your done.


Click Here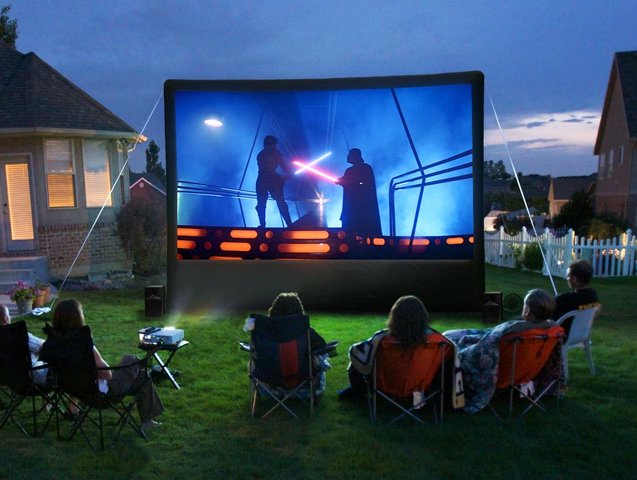 Frisco Bounce House Rentals for Backyard Parties -
DFW Party Rental has a wide variety of bounce houses, combo bounce houses with slides, water slide rentals, dunk tanks, and much more to make sure your backyard party is a success. Our bounce houses come in many different shapes and sizes ensuring a perfect fit for any backyard. Save Money by adding a concession and a few tables and chairs to take advantage of our party packages. We deliver clean and safe fun and we are always on time.
Frisco Corporate Event Rentals -
We do many corporate events in Dallas and all the surrounding areas. From Dunk Tank rentals for fund raisers to concessions or just tables and chairs. DFW Party Rental can deliver the goods to your next event. We work hard to provide quality products for a fair price while providing excellent customer service from start to finish. Call us today to start the process.
Frisco School Event Rentals -
We have done tons of events at schools. From Fall Festivals to Fund Raising to celebrating a job well done, we can help you with everything you need to have a great event at your school. Large variety of inflatables, games, carnival games, dunk tanks, etc. We also offer
10% OFF
for Schools orders over $250.00. Call us and ask for details today!
Frisco Church Event Rentals -
We absolutely love setting up events at all the surrounding churches in our area. We offer all Churches
10% OFF
any order over $250.00. We can do Carnivals with our Carnival Themed Inflatables and Games. To just a Dunk Tank or Concessions. Whatever you need we can provide. Call us and ask for details today!
DFW Party Rental has the BEST Inflatables and Dunk Tanks in Frisco -
We are located in Frisco, so we know the Frisco area and already do business with many Parents, Schools, Churches, and Businesses. You can trust DFW Party Rental to provide quality products and a fair price. We will be on time, ensure all our products are clean and ready to use. And make sure you are fully trained to use any product you have of ours. We are also fully insured, and all of our inflatables are inspected by the state each year. Insurance and inspection certificates will be provided upon request.
Bounce House and Slide Rentals in Frisco, TX
Conveniently rent inflatables & party rentals online
If you're looking for the best bounce house and party rentals that Frisco has to offer, you've come to the right spot. DFW Party Rental is proud to provide Frisco's best selection of bounce house rentals, water slides, obstacle courses, interactive games, tents, tables and more. Let us take the stress and worry out of your next event. With our convenient online booking system, and top-notch customer service. it's a breeze to book your next birthday party, school field day or corporate function. Inflatables & party rentals is what we do, and nobody does it better than DFW Party Rental. When you find the perfect item, simply add it to your cart and continue shopping or proceed to checkout. Click below to reserve your date or scroll down to view our inventory.
Click
HERE
to choose your event date.
Fun inflatables for birthday parties
When it comes time to celebrate your child's birthday, why not celebrate with a bounce house rental from DFW Party Rental? Your guests will be delighted when they see an awesome inflatable set up in the yard. All of our units meet or exceed industry safety standards as well, so you can have the peace of mind that comes with renting a bounce house from a company that is fully licensed and insured by the Cossio Insurance Agency.
Best selection of jumpers in Frisco and Surrounding Areas
DFWPartyRental.com has one of the largest selections of inflatable rentals in Frisco TX and the surrounding area. We can deliver your bounce house to any venue, indoors or out. With several different styles and themes to choose from, you're sure to find the perfect jumper, water slide or inflatable obstacle course rental for your next party. Some of our great themes include a Mickey Mouse bounce house or Disney Princess.
To conveniently book online, simply click the item below that you are interested in, select your time and date and enter your information. We do require a $25 deposit to reserve items and no item should be considered booked until the deposit is received. Also, our friendly knowledgeable staff is happy to answer any questions you may have. Feel free to call us at
(888) 584-6424
or you can also email us at
info@dfwpartyrental.com
. Thank you and we look forward to serving you.
Dunk Tank rentals and Water Slide Rentals
The concept of dunking the boss at the company picnic or dunking the local "celebrity" at fundraiser events has become an American pastime. Rent this tank for your school, church, or corporate event. Also good for backyard parties, just make sure you have at least 6-foot-wide gate to accommodate this large item. Our water slides and bounce house water slides are a sure bet for a fantastic summer party you will never forget. Our bounce house with slide combos are the most popular event items. Dunk tanks are excellent for fund raisers at your church, school or corporate events.
Concessions Rentals
Concession Machine Rentals make every kids party even better! DFW Party Rental is the go-to spot for concession machine rentals in Frisco, Tx. Our concessions are perfect for party foods that are delicious and nostalgic. We have Popcorn Machines, Cotton Candy Machines, Hot Dog Steamers, Sno-Cone Machines, and Frozen Drink Machine or Margarita Machines.
Table and Chair Rentals
DFW party Rental has what you need in tables and chairs. We have a nice variety to choose from and will deliver to your location. We also carry table covers in several colors to make your event that much better. We can also setup your table and chairs for a small fee.
We know you love your kids and guests. Here's the perfect chance to show it
Choose DFW Party Rental, Frisco, TX to bring serious fun to your event



DFW Party Rental helps over 1000 happy customers each year host successful events. We'll like to help you too- whether big or small events, we'll allow you leverage our expertise, cache of latest products, and experience so your party can run smoothly.

We've worked incredibly hard to establish our reputation as one of the best party equipment rental companies in Fresco, Texas, and we would love to prove to you why that reputation is well deserved!

Let us provide you with everything you'll need to host your next celebration. Get in touch now, let's get started.