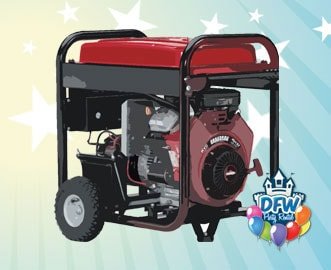 Small Generator
Includes enough gas for 8 hours.
Will be needed if no electricity is available at your party location.
This generator will run TWOÂ blowers. Most inflatables will only use one blower per inflatable. Some larger units will use more than one blower. Make sure to check the items desription. Units with more than one blower will say so in the description. If you have any questions, please ask.Â
This item is not discountable.Â
** Delivery included with the rental of an inflatable. Minimum $25.00 delivery fee without inflatable rental. Additional delivery charges may apply depending on distance from Frisco, TX.

Discounts and coupons only apply to inflatables. Tables, chairs, concessions, supplies, and equipment are non-discountable items.