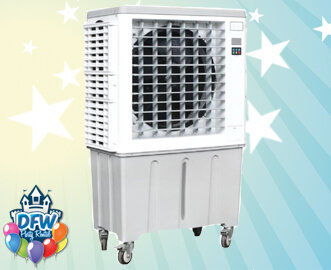 Portable Evaporative Cooler
Actual Size: 38"W x 60"T x 24"D
Setup Area: 3.5 X 2
Outlets: 1 Regular Household Outlet




This is an evaporative cooler, not an air conditioner. These coolers use water evaporation to cool the air down. They can cool the air as much as 25 degrees in ideal conditions. To get the best performance, we recommend to use this in a shaded area and not in direct sunlight. Use fresh cool water to fill the 32 gallon tank. You can also add a few bags of ice to the tank with water to help produce even cooler air flow but this is optional and not required. Our experience is the higher the ambient temperature and humidity, the less efficient the cooling will be. We do not guarantee any amount of temperature drop due to environmental conditions.

Add some coolness to your party with this portable cooler. This will cool the air between 15-25 degrees and is a must in this Texas heat. Water supply is required and hooks up using a standard garden hose.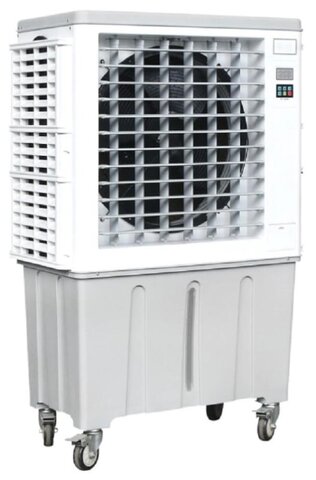 This item is not dis-countable.

Dimensions - 38"W x 60"T x 24"D



How we'll benefit you:

On-Time Delivery Guarantee!
Affordable inflatable rentals.
Our service includes delivery, setup and pickup.
We go through all the safety guidelines with you to ensure a safe and fun filled event.
Most inflatables will come with a mat for the entrance.
If you need a tarp, please make a note during check out.
Flexible rental period - It can be between 1 hour and 8 hours long. If you need to keep the items later than our latest pickup time, please pick the following morning for your event end time.
Delivery charges may apply depending on distance from our warehouse in Frisco, TX
For inquiries please call us at (888) 584-6424
Exemplary service and professionalism you would expect from the best party rentals in Frisco, TX.