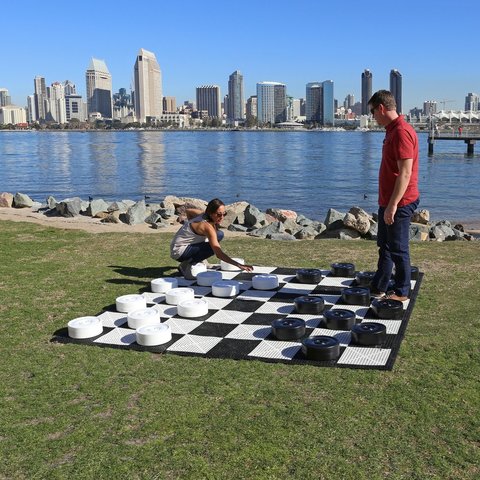 Giant Checker Game CP
Giant Checker Game Rental
Enjoy a game of Checkers in colossal proportions with this Giant Sized Checker Set. Measuring nearly 10 inches in diameter and 3.5 inches tall, these sturdy checkers are made of durable PVC and build to last. They are waterproof, UV protected, and can be left outside during all sorts of weather conditions. This is a fun game that the whole family can enjoy together! Play in your backyard, at a BBQ or picnic, at the beach or the park.
Includes:
(12) Black checkers 3.5" in Height, 9.87" in Diameter
(12) White checkers 3.5" in Height, 9.87" in Diameter
(6) plastic rods to make Kings
1 nylon playing mat (106"x106")

How we'll benefit you:
On-Time Delivery Guarantee!
Affordable inflatable rentals.
Our service includes delivery, setup and pickup.
We go through all the safety guidelines with you to ensure a safe and fun filled event.
Most inflatables will come with a mat for the entrance.
If you need a tarp, please make a note during check out.
Flexible rental period - It can be between 1 hour and 8 hours long. If you need to keep the items later than our latest pickup time, please pick the following morning for your event end time.
Delivery charges may apply depending on distance from our warehouse in Frisco, TX
For inquiries please call us at (888) 584-6424
Exemplary service and professionalism you would expect from the best party rentals in Frisco, TX.