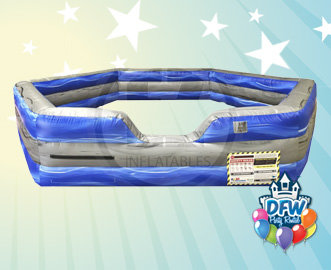 GaGa Ball Pit
Actual Size: 20'L x 20'W x 3'T
Setup Area: 20' W x 20' D
Outlets: 1 Regular Household Outlet
Age Group: 4 and up
Attendants: 1 Adult




Gaga Pit Rental
Have you ever wanted to try your skill in the 'GaGa Pit' With this Inflatable GaGa Pit interactive game youre going to get your chance. This fun game features six sides and is 20 ft wide. Dimensions:

20'L x 20'W x 3'T
Include1 Gaga Dodge Ball with rental. Additional charges apply for any lost equipment during your event.
Gaga is a fast paced, high energy sport played in an inflatable enclosure or pit. The more players the better! Played with a soft ball, gaga game combines the skills of dodging, striking, running, and jumping, while trying to hit opponents with a ball below the knees. This game does not have a bottom. It is open.
Gaga Rules:
Players start inside the pit touching one of the sides.

One player throws the Gaga Ball up into the middle of the Pit.

Players yell "Ga" each time the ball bounces and the ball is in play after the third bounce (i.e.,GaGa,Ga).

Players can hit the ball with an open hand, but cannot pick up or throw it. If you hit the ball with two hands, you are out.

If the ball touches a player anywhere on or below the knee, that player is eliminated - even if they last hit the ball themselves.

A player cannot touch the ball two times in a row - the ball must first touch another player or the pit wall or it is called a double touch and that player is out.

Players may not kick the ball since this means touching the ball below the knee.

If the ball is hit out of the pit, then the last player to touch the ball is out.

Players who are out must leave the Gaga Pit immediately.

The last player remaining is the winner and gets to start the next game.
Gaga Variations:
Domination Gaga
This variation is great for leveling the playing field among players of various ages and/or athletic ability. Gameplay is as above except that when a player gets out, any player who was previously gotten out by that player can re-enter the pit.
Mayhem Gaga
Use up to 4 balls for this game (different colored balls work best to help keep track of "double touches"). Players may not see it coming!
Dodge Gaga
If a player catches the ball in the air, the last person to hit the ball is out.
* Great for parties, school festivals , church carnivals and corporate events
How we'll benefit you:
On-Time Delivery Guarantee!
Affordable inflatable rentals.
Our service includes delivery, setup and pickup.
We go through all the safety guidelines with you to ensure a safe and fun filled event.
Most inflatables will come with a mat for the entrance.
If you need a tarp, please make a note during check out.
Flexible rental period - It can be between 1 hour and 8 hours long. If you need to keep the items later than our latest pickup time, please pick the following morning for your event end time.
Delivery charges may apply depending on distance from our warehouse in Frisco, TX
For inquiries please call us at (888) 584-6424
Exemplary service and professionalism you would expect from the best party rentals in Frisco, TX.