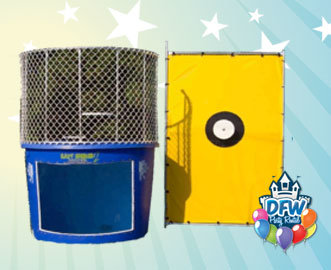 Dunk Tank
Setup Area: 25' x 15'
Age Group: Up to 200 lbs
Attendants: 1 Adult




🌊 Dive into the thrill of the splash with our sensational Dunk Tank – the ultimate crowd-pleaser that adds a splash of excitement to any event! 🎯💦
🎉 Make a Splash at Your Event! 🎉
Picture this: the sun is shining, laughter fills the air, and the anticipation is palpable. The Dunk Tank is the perfect centerpiece for your carnival, fundraiser, or festival. Create memories that will have everyone talking for days, all while enjoying the refreshing splash of good times.
🎯 Aim, Dunk, Repeat! 🎯
Challenge your friends, colleagues, or even your boss to take a seat on the hot seat! With a well-aimed throw, anyone can send them splashing into the tank below. It's not just a game; it's an interactive experience that brings people together, fostering camaraderie and shared laughter.
💦 Safe and Soaking Fun! 💦
Safety is our priority. The Dunk Tank is designed with sturdy materials and reliable construction, ensuring a secure and enjoyable experience for both the dunkee and the dunker. Plus, the tank is easily refilled, ready for the next round of thrilling splashes.
🎟️ Fundraise with a Splash! 🎟️
Turn your fundraising event into a splashy success! The Dunk Tank adds an element of excitement that encourages participation and generous donations. With every dunk, you're not just making a splash – you're making a positive impact.
🌐 Portable Entertainment, Anywhere, Anytime! 🌐
Our Dunk Tank is portable and easy to set up, making it a versatile addition to any outdoor gathering. From company picnics to school fairs, the Dunk Tank transforms your event into an unforgettable experience that will have everyone talking.
🌟 Book Your Dunk Tank Adventure Today! 🌟
Don't miss the chance to bring a wave of fun to your next event. Book the Dunk Tank now and let the splashing good times begin. It's not just a game; it's an experience that creates memories and laughter that will last long after the last drop has fallen.
👉 Ready to make a splash? The Dunk Tank is waiting for your command! Dive into the excitement today! 💦🎯

The concept of dunking the boss at the company picnic, or dunking the local "celebrity" at fundraiser events has become an American pastime. Rent this tank for your school, church, or corporate event. Also good for backyard parties, just make sure you have at least 6 foot wide gate to accommodate this large item. Our Dunk Tank rental will be the hit of your event!

Includes 6 softballs for dunking. Extra charges apply for any balls lost during event. Requires adequate water supply to fill 500 gallon tank (Normally will fill in about 45 minuits). You supply the water.
Requires gate opening of at least 6 Feet wide for it to fit. No stairs or steep inclines. Please measure prior to ordering.
** Delivery included with the rental of an inflatable. Minimum $25.00 delivery fee without inflatable rental. Additional delivery charges may apply depending on distance from Frisco, TX.

Discounts and coupons only apply to inflatables. Tables, chairs, concessions, supplies, and equipment are non-discountable items.

Place dunk tank in cart and you have a choice of one of these three backdrops.